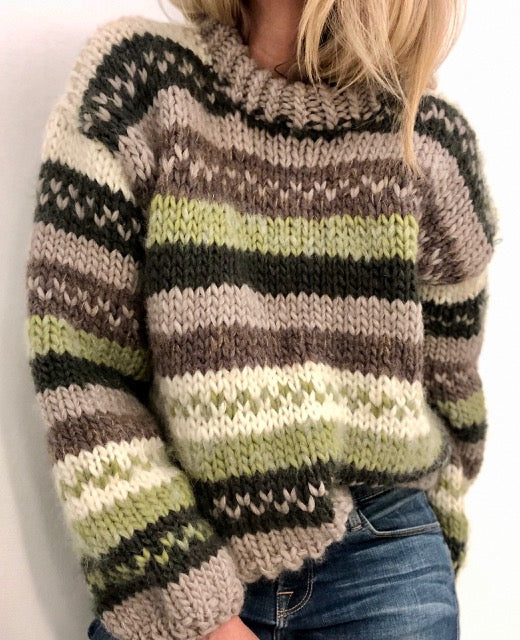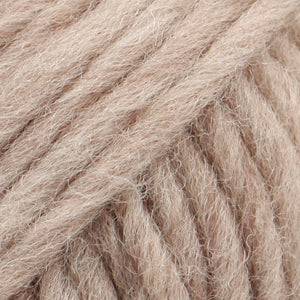 My Fallsweater in wool, green model
---
The sweater is knitted in Drops Snow, which is 100% wool together with Brushed alpaca silk as the supporting thread. 1 color also has kid silk, so that the colors match better. Main colors are green and beige.
SWEATER LONGER?
If you want the sweater to be longer, you can knit, for example, 4 extra rows directly after the rib in the same color as the rib. This amounts to approximately 4 cm. You can then add 1 ball of Snow color light beige in size XS/S. In sizes M/L and XL/2XL you can add 1 ball of Snow color light beige and with 1 ball of brushed alpaca silk. They are added to the side.
Sizes: XS/S (M/L) (XL/2XL)
Length: 52-56-60 cm or desired length. This is a short model.
Sleeves: Approx 44-48-48 cm or desired length
Width: 114-121-128 cm
Gauge: Needle 12 mm, 9 stitches=10 cm
Needles: 10 mm and 12 mm, 40 and 80 cm
Currency in this webshop shop is NOK, Norwegian krones. Please read under FAQ for more information about postage and customs.
DROPS Snow is a soft, thick and lightly knitted 1-thread yarn in 100% pure wool that provides warm and comfortable garments - and is well suited for felting. The yarn fibers are untreated, which means that they have only been washed and not subjected to chemical treatment before dyeing. This best highlights the yarn's natural properties and gives better shape and texture. DROPS Eskimo is a popular winter yarn and is produced in three different varieties: uni colour, which is one colour; mix, where more than one color is carded together before spinning, and print, which is made from several colors that are repeated regularly. Made in EU. Oeko-Tex® certificate (STANDARD 100 by OEKO-TEX® 25.3.0099 Innovatext Textile Engineering and Testing Institute CO).